The HA Center of Competence welcomes its first trainees
You can only drive innovation and develop new and improved products if you have a pool of highly specialised employees and the right expertise. That's precisely why HA has such a long-standing commitment to the comprehensive, challenging and hands-on promotion of young talent. Once again, HA is looking for new trainees this year. And some of them will benefit from training in a very special environment for the first time.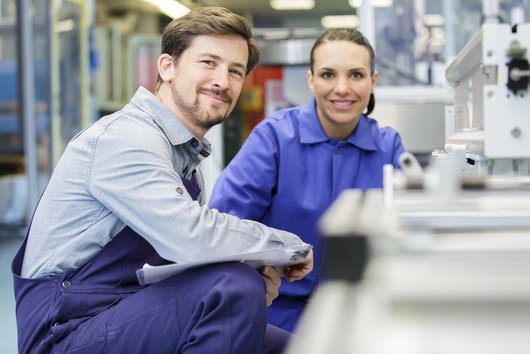 In order to guarantee that our trainees are optimally prepared for their chosen vocations, we provide them with a wide range of valuable insights into the technical and commercial processes within an international manufacturer of chemical products for the foundry industry. Our trainees will gain not only theoretical but above all hands-on experience as they climb the first rungs of the professional ladder.
HA currently offers eight different vocational traineeships at its sites across Germany, including training for chemical laboratory technicians and industrial management assistants. Now, for the very first time from August 1, 2021, HA is launching a new programme for trainees in the field of foundry mechanics, with a key focus on core production. Uniquely, the traineeships are based at the HA Center of Competence (CoC) in Baddeckenstedt, between Hildesheim and Salzgitter. The CoC is where HA tests its new materials and processes using state-of-the-art equipment, as well as manufacturing sample parts, prototypes and small series for first castings.
Peter Heß, Head of Technical Service and in-house Training Manager: "Training at the HA CoC is so unique because this 4,500-sq m facility features pilot and industrial facilities that replicate virtually every process you will find in a real-world foundry. This means that our trainees will be directly involved in the development of new ideas and can test solutions for all common mould and core making processes right here on site".
During the 3.5-year apprenticeship, trainees will learn, for example, how to manufacture components and assemblies using a wide variety of casting processes. They will also get to operate and monitor foundry production equipment, study a range of sands and moulding materials in the company's own laboratory, and much, much more besides.
"For a traineeship at the HA CoC, applicants should definitely have a great deal of interest in technical content and in developing hands-on skills. We do everything we can to ensure that our trainees are welcomed into the HA family, enjoy their training and complete their vocational training with passion and commitment", explains Sina Spreizer, Head of Training HR Specialist.
If you are interested in a traineeship with HA, please apply here.