First steps into the professional world
Completing a vocational training at HA in Germany means much more than just learning. We not only want you to gain a professional qualification. We want you to become a part of our HA family! We offer you comprehensive support and exciting extras like the trainee event week.
If you decide to train at Hüttenes-Albertus, you will gain an understanding of how a modern, international company works and operates in an industry that is not only exceptional but above all fascinating. Welcome to a new stage of life!

"A wide variety of assignments, exciting challenges and a great team – that's what training at HA is all about. Together we will set the course for your professional future!"
- Sina Spreizer, HR Specialist
Vocational training
What professions do we train?
At HA in Germany we train several commercial and chemical professions. If you are interested in an apprenticeship with us, you can find the open training positions in our online application portal. If you need more information, please contact Felix Ihling or have a look at our German language training page where the training offers are explained in more detail.
Application process
How to apply for a training position with HA in Germany
Step 1: Upload your application documents via our portal
It is very simple! If there is a suitable position for you, you can upload your application documents via our online application portal.
Simply start by selecting your desired position and clicking on "Jetzt bewerben". From there you will be guided through every step of the application process.
Step 2: We check your application and give you feedback
After you have successfully uploaded your application, you will receive a confirmation email.
We will then review your application and contact you by phone or email.
Step 3: Interview with further information
If your feedback is positive, we will invite you to get to know us personally.
During the interview you will have received information about how to proceed.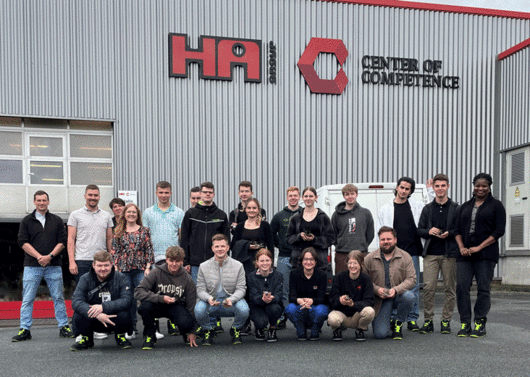 Trainee Event Week
Eventful introduction days
The Trainee Event Week has a long tradition at HA and serves above all to make you feel "at home" in the company and help you get to know each other. To ensure that the trainees at our various locations grow together to form a well-coordinated team, the HA annual TraineeEvent Week takes place at a different location each year.
All apprentices as well as the trainers from Hannover, Düsseldorf and Delligsen came together at the Hannover site from 1st to 3rd August 2023 to spend three exciting and interesting days together. The colourful programme ranged from a tour of our plant in Hannover and bowling to an informative seminar and a presentation of our HA products followed by a guided tour trough our Center of Competence.
ZUKUNFTINC.
A network full of career opportunities
Hüttenes-Albertus is a member of ZUKUNFTINC. (German Website) – an initiative of ten international market leaders who have their headquarters in the Hanover region. We, as traditional companies and hidden champions, pool our experience, contacts and advantages. This creates professional perspectives for university and college students, school students and skilled workers in the Hanover region and in the worldwide network of member companies. ZUKUNFTINC. is a network full of professional opportunities.
Through joint activities, we offer school students, university and college students and skilled workers with different qualifications something very special – a promising career perspective in the Hanover region with all the opportunities offered by an international network of market leaders.
Future Day
Girls' and Boys' Days
Participation in Future Day is a tradition at HA. We are pleased to give school students an insight into our company and its various professions. In particular, we want to encourage young women to pursue careers in science and technology.
On Future Day, you can spend a whole day actively immersing yourself in the exciting world of foundry chemistry and not just watch from the sidelines, but get involved yourself. The programme includes, for example, experiments in the laboratory, building a solar-powered windmill or commissioning goods and raw materials. Take the opportunity to experience the working world in an industrial company!
► Girls' Day Website ► Boys' Day Website (German Websites)