HA Group intensifies activities in Southeast Asia
Hüttenes-Albertus (HA), the world's leading manufacturer of chemical products for the foundry industry, announces the acquisition of the majority stake in Centre West Foundry Supplies Sdn. Bhd. From 4 January 2021, the company becomes part of the global network of the HA Group as HA ASEAN Sdn. Bhd.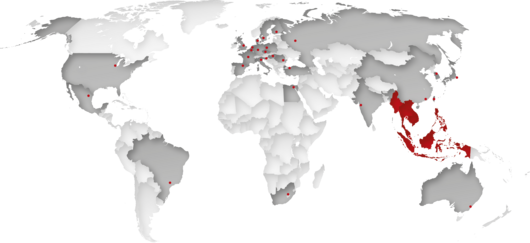 Hüttenes-Albertus Chemische Werke GmbH acquires the majority shares of Centre West Foundry Supplies Sdn. Bhd. in Malaysia with effect from 4 January 2021. The former distribution partner will become the new company HA ASEAN Sdn. Bhd. with a registered office in Kuala Lumpur, Malaysia.
Centre West Foundry Supplies had previously been HA's long-term distribution partner in Malaysia since 2014. Ken CHEW Kean Woei, Centre West's previous managing director, remains a strong minority shareholder and becomes CEO of the new company HA ASEAN.
"After many years of successful partnership with HA in Malaysia and Singapore, I am now looking forward to becoming part of the HA Group and supporting our customers and partners in all of ASEAN with high-quality products and competent service," says Chew Kean Woei.
In the future, the Hüttenes-Albertus Group (HA Group) will drive the development of its business in Southeast Asia from Kuala Lumpur. The distribution partners AB Thai Foundry Supplies Co, Ltd., PT Haltraco Sarana Mulia and Mahachem Sdn. Bhd. will continue to operate as HA's local partners in Thailand, Indonesia and Northern Malaysia, respectively.
"With the foundation of HA ASEAN, the HA Group is taking an vital strategic step to expand its activities in the important Southeast Asian growth market. Many years of successful cooperation have shown that Centre West is the right partner for the fast-growing Southeast Asian foundry market" concludes Bernhard Müller, Regional Vice President Asia & Pacific.
HA ASEAN Sdn. Bhd.
No 9 Jalan TSB 8, Taman Industri Sg Buloh,
47000 Petaling Jaya
Selangor
Malaysia
Tel. +603 6157 6688 (Ext: 119)
Fax: +603 6156 8382
About HA Group
Hüttenes-Albertus (HA) is a leading international manufacturer of chemical products for the foundry industry, with head office in Düsseldorf, Germany. In the global HA Group, almost 1,800 committed employees in more than 30 countries develop and produce foundry chemical solutions for all common core and mould-making processes for customers around the world. Parts cast using HA binder systems are the core components in a wide range of products, including car engines, wind turbines and industrial machines. Learn more: www.ha-group.com