Fit and healthy - in the office and at home
At the recently held Health Day, HA employees at the Düsseldorf site not only enjoyed a wide range of information on the topics of physical activity and balanced nutrition, but also tasty healthy snacks.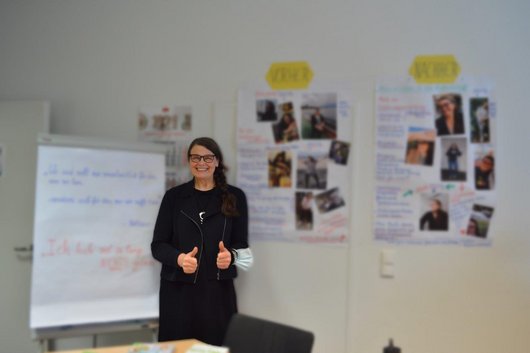 Last week, HA's HR department, in cooperation with the Works Council, organized a health day for all employees at the Düsseldorf site. At several small booths there was a lot of helpful information and tips for a healthy diet and lifestyle.
In our everyday lives, we usually sit too much, don't get enough activity and don't always eat healthy - a conscious lifestyle is often missing out. Especially now in the cold season and in view of the rising infection figures, people are even less on the move and often work from home, where an ergonomic sitting position is often not guaranteed. However, it is important to have enough physical activity, a well-equipped workplace and, of course, a balanced diet in order to be and stay fit and healthy.
The aim of the health day: to increase the focus on the topic of health in everyday (office) life for employees. 45 employees took part in the event, divided into one-hour time slots and following the Corona rules, picked up tips for a fit everyday life. Healthy and delicious snacks included.
Among the things to discover:
The personal success story of an employee from the HR department who has managed to find her way to a healthy lifestyle with a changed diet and lots of exercise - completely without starving herself and with many small and large successful experiences.
The offers of the Urban Sport Club, where HA employees receive an exclusive discount on membership and can thus take advantage of many different sports offers.
The company medical service of Dekra for blood pressure/blood sugar measurements, as well as information and tips from the Düsseldorf company doctor on the subject of ergonomics at the workplace.
The participants were also shocked by the sugar pyramid, which showed how much sugar is contained in our food. The healthy alternatives could be tasted at the booth: Powerballs, ginger shots and banana bread.
The Works Council provided information on the offer of advice on caring for a relative from a specially trained HA employee. Care coaches are the first point of contact for employees so that work and care work can be combined and organized.
In addition, many of the employees took advantage of the back check-up offered by Techniker Krankenkasse, where they could have their back and abdominal muscles checked to see how good they are and what training tips are helpful for a healthier everyday life.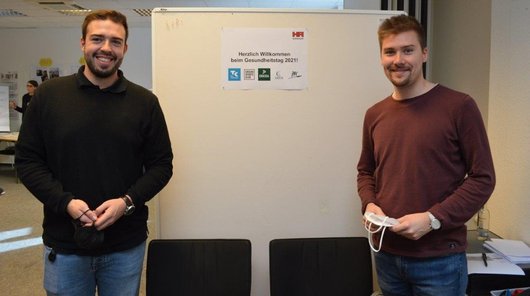 Finally, there was a small surprise for all participants of this year's Health Day, so that the new good intentions could be put into practice immediately: A little bag filled with a healthy snack and a skipping rope, among other things.
The employees' conclusion: a very pleasant event and a really good motivation for more health in everyday working life and at home.