Driving innovation – with the HA Center of Competence
Hüttenes-Albertus has always been committed to promoting young scientists, giving new ideas the opportunity to develop and driving innovation. In this vein, HA is now deploying its foundry know-how and the state-of-the-art facilities in the HA Center of Competence (CoC) to support a new project launched by the University of Kassel.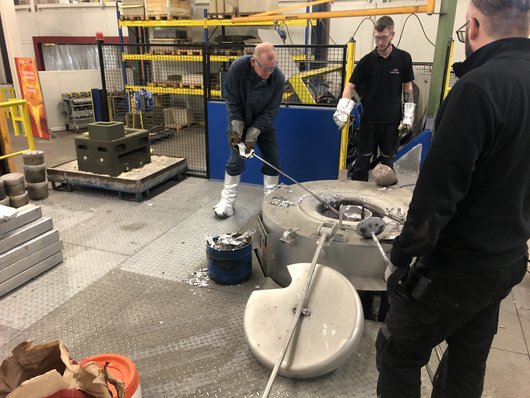 Under the aegis of the Faculty of Foundry Technology GTK at the University of Kassel and in partnership with the start-up Revolute GmbH, the HyGear research project is developing an innovative, ultra-compact and highly efficient hybrid gearbox that combines an electric motor with a diesel or gasoline motor specifically for urban use.
According to the project's managers, the current generation of gearboxes are based on technologies developed for internal combustion engines, not hybrid motors. The HyGear team believe they can exploit previously untapped potential to increase the efficiency of hybrid drivetrains.
Under the auspices of the Faculty of Foundry Technology, the research team is developing a bespoke cast aluminium housing especially for their innovative new gearbox, along with an innovative water-cooling system for the electric motor.
Once the project participants had simulated the casting process for their prototype, an S-Max Plus 3D printer from ExOne was used to print the core ready for immediate casting on site at the HA Center of Competence.
Thanks to the pooled experience of the HA Center of Competence team, the first test run delivered a high-quality casting. Production using the additive manufacturing process with 3D-printed sand moulds is a fast and cost-effective manufacturing method, especially for prototype components.
By manufacturing their gearbox prototype at the HA CoC, the students and project managers were able to follow every single step of the manufacturing process – from the initial simulation all the way through to core production and the finished casting.