Inorganic sets the standard: Emission-free casting
The chemistry of carbon-free compounds is generally referred to as "inorganic". In foundry chemistry, the term refers to a special class of core binders. Due to their composition, they are completely different from conventional binders based on organic chemistry. On the way to sustainable, energy- and resource-efficient processes, inorganic binders are increasingly becoming the focus of strategic decisions in the foundry industry.
With the help of inorganic binders (IOBs), the vision of emission-free casting has already become reality in Germany. Demand for this technology is also growing in other parts of the world. Increasing environmental awareness and rising energy costs are causing the foundry industry worldwide to rethink its approach. Many renowned, globally positioned foundries have embraced inorganic binders.
Moving into the future with inorganic binders
No emissions: no smoke, no BTX or BTEX, no amines, no odour nuisance
Significantly reduced CO2 emissions
Efficient use of resources
Productivity
No condensate deposits on the mould means longer tool life
High-quality castings
Makes it possible to cast complex core geometries
Excellent casting quality: Inorganic cores – even uncoated – provide casting surfaces that are equal to those of organic processes and in some cases superior
No investment and operating costs for air purification
No condensate formation: Reduced cleaning effort and consumption of foundry auxiliary materials
Extended tool service life reduces costs
Improved working conditions
No odour nuisance during the production of inorganically bound cores and during casting
Reduced noise pollution, since no exhaust systems are required at the core shooter and casting table
Emission-free in series production
With its Cordis branded binder systems, HA is one of the technology leaders in the field of inorganic binders.
Features:
Cordis is an inorganic core binder system based on a silicate solution and is used in conjunction with the inorganic Anorgit additive (two-component system).
Water serves as the solvent.
When exposed to temperature in heated core boxes, a physical process forms a three-dimensional network, which is what gives the sand core its strength.
In addition, the cores can be gassed with heated air. The water contained in the cores is converted to the gas phase and expelled. Thus, curing takes place solely through heat and elimination of the solvent water.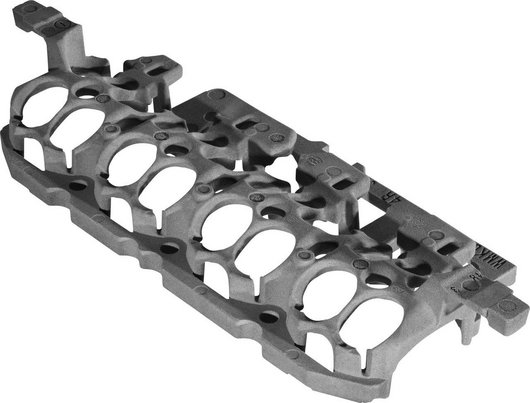 For many years, Hüttenes-Albertus has built its success on open and trusting cooperation with its customers and other partners from industry and research. With the HA Center of Competence, we created a unique platform for cooperation, bringing together stakeholders from all over the world.
We believe that advancing technologies requires a joint effort by all parties.
Read more about how a foundry, machine and tool manufacturer joined forces with HA to convert three production lines from organic to inorganic core production in record time.