Coatings for all applications
The term coating refers to the techniques used to smooth the surface of manufactured parts. In foundry technology, coatings are substances that are applied to moulds and cores to smooth the porous surface of the moulded part. As a base material, finely ground refractory to highly refractory materials are used. The coating layer insulates the substrate and protects against thermal stress from the molten metal.
Immaculate casting surfaces More efficient processes Prevention of defects Controllable properties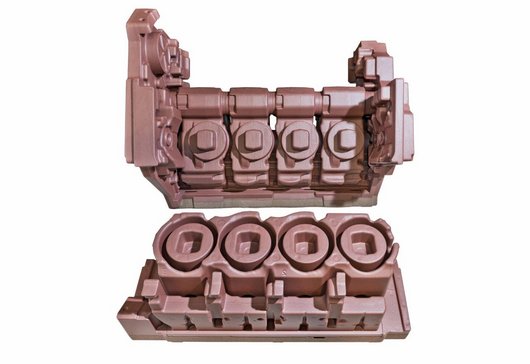 As one of the most important suppliers of foundry chemical products worldwide, Hüttenes-Albertus offers coatings for all applications in automotive and hand mould casting and many other casting processes.
As a result of the constant advances in binder system technology, coatings are also constantly adapted to ever-changing requirements. This is made possible by the use of new raw materials, which are tested and adapted during continuous research and development work.
We can also meet the continuously increasing demand for water-based coatings with a broad product range.
Excellent casting surfaces can only be achieved with the right coating. Typical casting defects such as veining can be avoided; reworking and the associated costs are significantly reduced.
HA's comprehensive product portfolio includes coatings for all applications, application types and storage conditions.
Surface optimisation with the latest technology
Uniform coating structure
Controlled rheological properties
Improved temperature stability of the moulding material
Avoidance of casting defects such as penetration or veining
Controlled gas permeability
Alcohol- and water-based coatings for all requirements
Optimised application through cooperation with manufacturers of application and processing equipment​​​​​
Continuous further development
What were once simple coatings have now become complex multi-component systems for a wide range of applications. By making fine adjustments to the composition of the refractory materials, carrier liquid, binders and other input materials, our coatings can be adapted to all specific conditions.
In addition to delivering the best technology at the best prices, we also strive to maximise the sustainability of our products – both in production and in use in the foundries.
The changeover from alcohol-based to water-based coatings has persuaded many customers to opt for this emission-free, cost-effective and storage-stable solution – with excellent casting results. The same goes for conventional coatings, where our research focuses on reducing emissions and conserving resources.
In our laboratory in Hanover, a dedicated team of experts is committed to the new and further development of coating systems.
Our product range includes over one hundred coatings, tailored to the needs of our customers.
Coatings for the 3D printing progress
Since printed cores differ significantly in some important properties from blown cores, there are specific requirements placed on the coatings. HA's Center of Competence, in the course of the development of special coatings for 3D printing, has thoroughly examined the role of coatings in printed cores and how to comply with the special requirements of the 3D printing process.
HA has developed a special series of coatings for the 3D printing process, which are already successfully being used for actual cast parts. They provide a smooth surface free of casting defects in aluminium, iron and steel castings. ► Find out more
Coatings for Centrifugal Casting
Innovative coatings formulated for centrifugal casting help to avoid casting defects, influence mechanical parameters and even serve as a forming medium to allow the creation of special surface structures. For foundries, it is well worth consulting an experienced coating supplier at an early stage in the development process of any new centrifugal casting applications.
The foundry specialists and chemists at HA are always happy to take on new challenges. Since there is often no "off-the-shelf" product for special applications, we develop and test solutions step by step together with our customers – from initial testing all the way through to series production readiness.