Hot-Box resins for all applications
The traditional Hot-Box process is one of the most reliable processes in the field of core shooting. In the core making process, moist organically bound, bulk or shootable moulding materials are hardened in hot metal core boxes on appropriate core shooting machines. The stored heat absorbed in this core making process results in complete hardening of the core. This process enables the production of cores of high or very high complexity since flowability and thus shaping accuracy are very high.
More and more foundries are also using the alternative warm box process. The resins used here are also urea-modified FA resins, which may also contain a share of phenol. These resins have a very low free formaldehyde content and can be easily stored. They are used in both grey iron foundries and aluminium foundries.
Our product portfolio for the Hot Box / Warm Box process
Resin | Urea resins
Urea resins feature excellent collapse properties for e.g. fittings casting or complex aluminum casting.
Thermoset | Urea-modified furfuryl alcohol resins
An urea resin modified with an amount of FA is used to reach a certain thermal stability. Excellent for aluminum castings and malleable cast iron.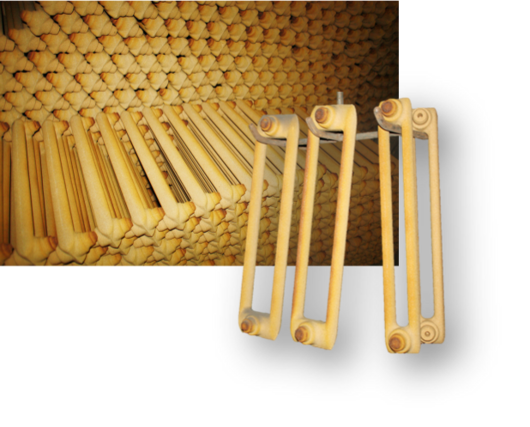 Thermoshock process
This process is used e.g. for the manufacture of cores for radiators. The resin is a highly-viscous urea-FA-resin.
Die Vorteile dieses Verfahrens sind:
high green strength of the sand mix
high bending strength levels
no formation of lustrous carbon
► Spotlight: Using the Thermoshock process to cast radiators
Resital | Urea-modified phenolic resins
Urea-modified phenolic resins feature a good thermal stability. Furthermore, the curing time of the cores is very short. The main field of application is in engine block castings (block and heads).
Resital | Phenolic resins
Pure phenolic resin with special characteristics:
Nitrogen-free
low free Formaldehyde
very high bending strength levels even after longer core storage periods