The shell moulding process was originally developed by the German inventor Johannes Croning and has been reliably used in foundries around the world for more than 75 years. Even today, shell moulding is indispensable in the production of certain cast components, especially as it is so easy and delivers such high-precision castings.
About the shell moulding process
With the invention of the shell moulding process, Johannes Croning developed a new, stand-alone mould casting process based on an entirely new production principle, as well as an innovative resin-bonded moulding material for the production of castings. The biggest difference between this process, for which a patent application was filed in 1944, and the compact, box-bound mould casting processes was the shell- or mask-like reproduction of the outer contour of the casting mould, which is what gave the process its name.
Today, shell moulding is a technically mature, extensively tested production process for shell and core manufacturing. With regard to the dimensional accuracy of the resulting castings, the shell moulding process is still the most accurate sand-casting process in the foundry industry.
Hüttenes-Albertus offers foundries that use the shell moulding process a wide range of coating resins, finished sands and finished moulding materials.
Corrodur solid resins

For the production of peelback-free, precoated sand. Our Corrodur solid resins have been specially developed to achieve a clean, dumped moulded reverse of shells and hollow cores.

Modified thermal shock procedure

Aluminium casting: Given the low temperatures used in aluminium casting and even lower temperatures in aluminium gravity die casting, HA has developed Corrodur solid resins to guarantee effective core disintegration after casting even under these conditions. HA's resins also feature excellent peelback and shakeout properties.

Corrodur resoles

Corrodur resoles are used in combination with Corrodur solid resins for hot sand coating. The following properties of the precoated sands can be adjusted by altering the combination of resoles and solid resins:

low-odour, precoated sands for all moulded parts
low-nitrogen precoated sands for all moulded parts
fast curing precoated sands for all moulded parts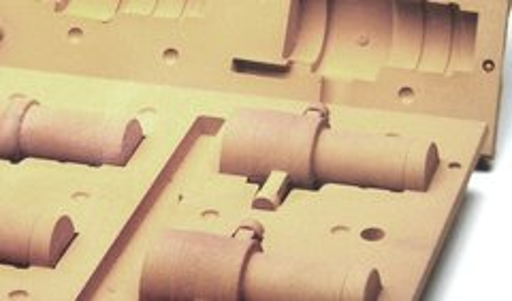 HA's Resital Precoated Sand is based on quartz sand, evenly coated with a layer of Corrodur solid resin and the required curing agent.
The excellent flow properties and mould filling capabilities of this dry, precoated sand allow even the finest wall thicknesses to be perfectly reproduced.
Cores produced via the shell moulding process with Resital Precoated Sand exhibit maximum strength and dimensional accuracy.
Strengths of the Resital Precoated Sand
Dry moulding material with excellent flow properties and mould filling capabilities
Ready for use delivery
Resital Precoated Sand and the cores produced with it have a virtually unlimited shelf life
highly dimensionally stable
Enables uncoated casting in many cases
No need to clean the shooting head
Material savings for moulds and cores by using shells and hollow cores (high gas permeability)
Resital Precoated Sands for almost all casting alloys
Water Jacket Bridge Cores Made of Resin-Coated Sand
Powerful and lightweight, delivering high performance with minimal fuel consumption: these are the requirements for modern engines. Implementing high standards begins with an ever more complex and filigree casting: the crankcase. Being able to cleanly and faultlessly cast the water jacket poses a great challenge for foundries.
With the targeted application of Resital Precoated Sand, foundries can cast even the finest water jacket bridge cores: HA's resin-coated sand ensures the highest casting quality in a particularly sensitive area.
KeraCron precoated moulding materials
The KeraCron precoated moulding materials developed at Hüttenes-Albertus have been specially designed to meet peak foundry demands, for example in production of hydraulic castings. Their excellent flow properties and mould filling capabilities permit moulding of fine details not possible using any other coremaking process.
Their systematically adaptable thermal expansion properties make it possible to prevent a variety of casting defects, thus affording a significant reduction of the finishing costs in the foundry.
very low coefficient of linear thermal expansion
for castings free of finning
peak dimensional accuracy of the castings
high (above 1,800 °C) temperature resistance
very easy core shakeout after pour-off
also supplied as through cure-accelerated, precoated sand