The roots of our company stretch back more than 100 years. Today, Hüttenes-Albertus is a globally successful family business.
Founded by a gifted and enthusiastic inventor
In 1905, the gifted inventor Albert Stahn founded Albertuswerke GmbH in Hanover. His company initially dedicated itself to making UV arc lamps, the forerunner of today's solarium.
In the early 1920s, Albert Stahn started to realign the company with a focus on foundry chemistry, developing new organic core binders and machines for the production of castings.
Having founded the company Hüttenes & Gerling in Ruhrort in 1909, Wilhelm Hüttenes decided the time was ripe for a new start in 1912. He joined forces with his brother Karl Hüttenes to found a new company named Gebrüder Hüttenes o.H. The two brothers moved their company to Düsseldorf in 1916.
They initially focused on recycling wastewater generated by the paper industry. The breakthrough came when it was discovered that the material could be used as a binder for core sand: the company's future was set. Given the size and importance of the foundry industry, the brothers decided this is where the best opportunities lay.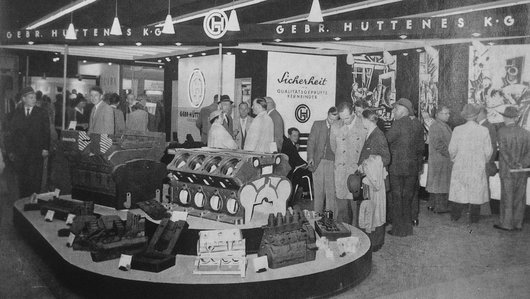 Technology never stands still
The mechanical engineering industry advanced at pace. Castings for a wide range of products,including radiators, compressors and combustion engines, became more complicated and required increasingly precise moulds and cores. The properties of clay-bonded sands had traditionally been enhanced by adding sawdust or horse manure, but these had long reached their performance limits. Neither did the waste from paper mills, which could only be used in combination with other binders, represent a long-term solution. To produce its increasingly complex castings, the industry clearly needed new high-performance core binders. Only these would allow foundries to form their core sand in such a way as to guarantee flawless castings, every time.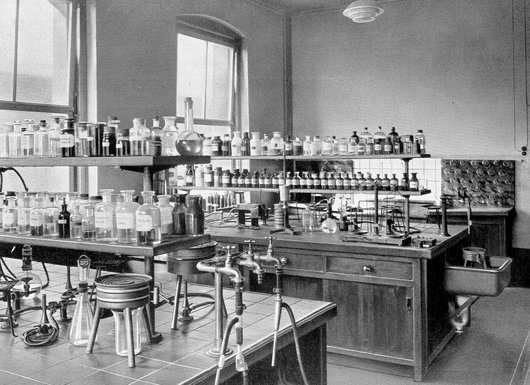 Sought-after problem solvers
The companies Gebr. Hüttenes and Albertuswerke were sought-after problem solvers and helped foundries to respond to the growing demand for more sophisticated cast products. The two companies initially developed "core oils" based on vegetable and animal oils and fats. These oils were used in core production for many years.
From the 1950s onwards, synthetic resin binders came to the fore. Liquid phenolic resins (Resole) and solid-state novolaks for resin-coated sands (Resital) delivered a productivity and quality revolution.
Whether new, high-quality casting materials, large-part casting, series production or reduced throughput: for all of these challenges a solution had to be found in the field of binder technology.
Gebr. Hüttenes and Albertuswerke join forces
On 1 January 1970, the two companies merged to form Hüttenes-Albertus Chemische Werke GmbH. The unified company successfully manages to establish itself as a full-range supplier of chemicals for all common core production processes and also to secure a valuable technological lead in this increasingly global marketplace.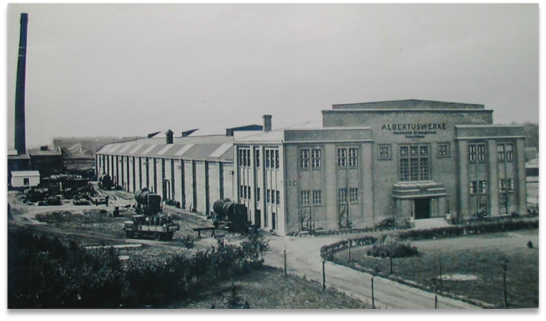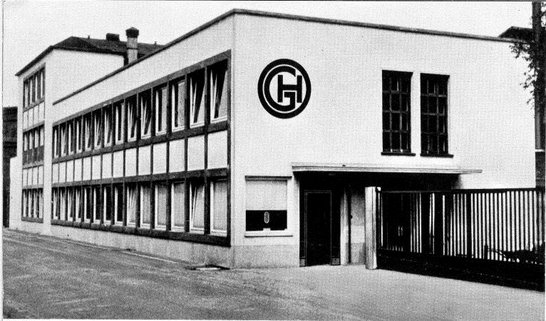 The company swiftly invested in laboratories where new products were developed and existing products were continuously refined.
Whether new, high-quality casting materials, large-part casting, series production or reduced throughput: for all of these challenges a solution had to be found in the field of binder technology. At that time, too, there was an increased focus on research and development.
"We do not strive to sell what is currently in our product catalouge, but to develop and manufacture products that will helps foundries solve problems."
Quote from a company publication of the 1970s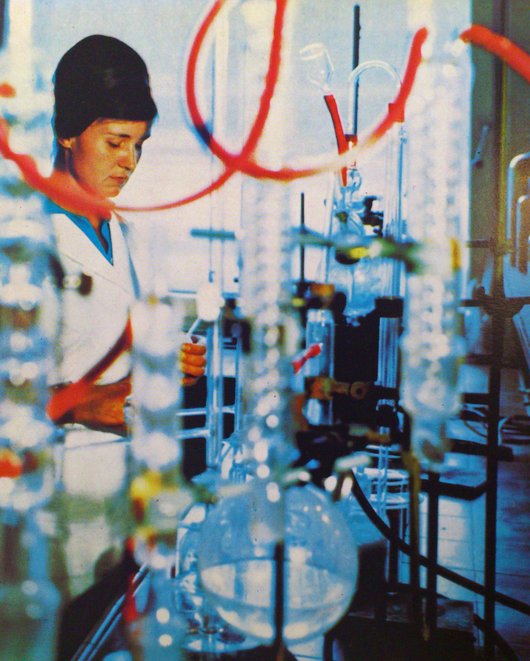 A tradition of innovation
The revolution of the foundry industry continued as increased mechanisation and automation were followed by calls for more environmentally-friendly solutions.
New core binder technologies ranging from shell moulding, furan resin, water glass, warm/hot box to cold box and inorganics were developed and quickly adopted by core shops. Foundry additives, including feeders and coatings, gradually expanded the company's product portfolio.
From 1962 onwards, HA also extended its presence abroad. From its first subsidiary in France, the company branched out into other European countries, North and South America, Africa, Australia and Asia over the next few decades.
The HA Group is today represented in more than 30 countries.
Today for tomorrow
The company's 1,800 employees are dedicated to providing our customers around the world with expert advice and support. Systematic expansion builds on existing business to strengthen the leading position of Hüttenes-Albertus in the global foundry markets.
Standing still means falling behind. At HA, we combine tradition with innovation. We learned from our founding fathers that innovation is the decisive driving force. Therefore, we constantly continue to refine and improve our products and solutions. With such strong and stable roots, we are able to look beyond the horizon as we strive to innovate, add value for our customers and protect the environment.
The company achieved two significant milestones in late 2017 with the inauguration of two innovation hubs, the HA Center of Competence (CoC) and a new laboratory in the Hanover region. Hüttenes-Albertus aspires to be the world's most innovative foundry chemistry company and fully recognises the importance of innovation as one of the key factors for maintaining a competitive advantage.
A great deal has happened since Albertuswerke was founded in Hanover in 1905. Today, Hüttenes-Albertus and its subsidiaries are a highly successful international group of companies.
1905 bis 1963
In 1905 Albert Stahn founded Albertuswerke GmbH in Hanover, one of the two parent companies that later merged to form HA.
In 1909 Wilhelm Hüttenes started a business in Ruhrort and, 7 years later, the company had evolved into the Düsseldorf-based Gebrüder Hüttenes o.H.
After the Second World War, HA developed two ground-breaking innovations that revolutionised the foundry industry: the first fully synthetic and low-gas binding agents and the first cold-curing furan resins.
In 1962 our company entered the international marketplace with the formation of its first subsidiary abroad, HA France today.
Just one year later, the company added a Belgian subsidiary (HA Belgium).
1969 bis 1974
At the end of the 1960s, HA founded what has gone on to become HA Nederland. In the same year, we established a partnership with the Spanish company AISA Ilarduya, which has since become our highly successful subsidiary, HA Ilarduya.

1970: Albertuswerke and the Hüttenes brothers join forces to revolutionise the foundry industry and become Hüttenes-Albertus Chemische Werke GmbH ("HA" for short).
In 1973 Hüttenes-Albertus enters the South African market with the foundation of HA Falchem. In 1974, HA enters into a partnership with SATEF Hüttenes-Albertus S.p.A. in Italy.Also in 1974, foundries worldwide welcome a competent partner for innovative feeder systems with the foundation of Chemex GmbH, which, 44 years later, rebrands as Chemex Foundry Solutions GmbH.
1977 to 1993
HA enters the South American market, starting with Brazil.
In 1978, the HA family gains a UK subsidiary (later HA UK). One year later, HA begins operations in Asia,starting with Japan.
In 1989, HA founds two new companiesin Asia: GARGI HA, a joint venture between the Kapur family (India) and HA Germany, and the South Korean HA subsidiary (today HA Korea).
1993: HA enters the Czech Republic with the launch of HA Kovochem. A few years later, HA CZ is added.
1994 to 1998
In the mid-to late-1990s, the HA family grew strongly worldwide.
In Turkey, Metko Kimya Sanayi, founded in the late-1980s, rebrands as Metko HA.
In 1995, HA establishes a base in Australia, followed a year later by the foundation of HA Polska in Poland.
In 1996, HA takes further strides in the development of increasingly environmentally-friendly products: The latest HA cold box generation uses rapeseed methyl ester, "biodiesel", to revolutionise core production.
In 1998,HA enters North America with the foundation of HA USA/Delta HA.
In the same year, HA also makes its first moves in China with the joint venture HA Foundry Auxiliary Material (HAFMaS) in Shanghai. In 2000, the company becomes a wholly-owned subsidiary of HA.
1999 to 2007
In the late-1990s and early-2000s, HA founds several new companies. HA Romania was the first to join the HA family.
In 2001, a joint venture between DeltaHA and Borden Chemicals followed – paving the way for our future American subsidiary, HA International.
In 2003, HA introduces modern inorganic binders and raises the bar for more environmentally friendly product alternatives.
In 2007, HA founds HA Minerals to supply the group with bentonite.
2012 to 2021
In 2012, the joint venture UCP HA marks HA's first foray into Russia.
In 2017, HA launched two innovation hubs in the Hannover region. The HA Center of Competence and a new laboratory confirm HA's commitment to state-of-the-art research and development for the foundry industry. In 2019, the joint venture HA Química de México adds another HA company in North America and ensures that HA is now also represented in Mexico.
2020: 50 years Hüttenes-Albertus. It's the 50th anniversary of the merger between Gebr. Hüttenes and Albertuswerke GmbH.
2021: We intensify our activities in Southeast Asia. Our new subsidiary HA ASEAN becomes part of our global network.