Forming the future together
There is no shortage of challenges in our industry. But there are also just as many opportunities. And only one way to seize them and actively form the future: Together.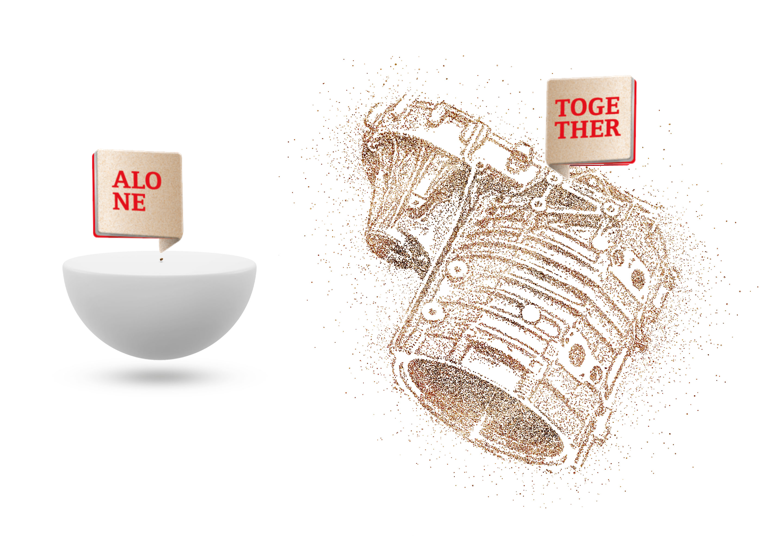 The sand motif illustrates nicely that only cooperation and partnership are the key to success. You don't get very far with a single grain of sand, but when you work together, the most diverse forms are possible. Forms for our industry, for our future.
Together we protect our nature and achieve our sustainability goals
Together we work on optimizing processes and performance
Together we advance new technologies and achieve more
From June 12th to 16th, Düsseldorf will again be the "place to be" for numerous guests from all over the world. Our international team is looking forward to a personal exchange about the news from our HA Group and the worldwide casting markets.

Be welcome at our stand: Hall 12, Booth C50

Messe Düsseldorf - Adress for car navigation system:
D-40474 Düsseldorf, Am Staad (Stockumer Höfe)
GPS: 51.269011, 6.727094
More travel options on the GIFA website

Highlights
Our program at the GIFA
In addition to the excitement about the long-awaited reunion, we would like to use the GIFA platform to exchange views with our visitors on numerous topics. Especially the focal points sustainability, circular economy and new technologies play an important role. Besides the face-to-face expert talk, they are also presented on our stand in the form of exhibits, presentations and participation in the ecoMetals tour. Equally important is the topic of skilled workers and the promotion of young talent, which is why the HA Group is once again welcoming numerous school groups to the Metals4You program at our stand this year.
Let's take advantage of the international trade show to share our work, innovations and ideas. Numerous interesting lectures will also be presented in the GIFA Forum in Hall 13.
These are the presentations of the HA Group:
Monday, 06/12/2023 | 12:00 p.m. - "Inorganics in iron casting: The story continues", speaker: Ralf Boehm
---
Topic: Promoting Young Talents
Young talents are the experts of tomorrow: Therefore, it is even more important to increase the attractiveness of our industry.
The Metals4You campaign adresses young people aged 15 and over, to find out about interesting career opportunities. The HA Group supports the initiative and welcomes the groups to an interactive youth stand.
Topic: Sustainability
At the ecoMetals initiative for sustainability, visitors take part in the ecoMetalsTrail and are guided by a tour guide to all participating exhibitors.
Our HA Group will participate in the ecoMetals campaign again and present the corresponding exhibits as well as plans and strategies on the topic of sustainability.